Meet April, My Daughter in law, I don't like the term In law but, it would sound really funny if I said this is my daughter and she's married to my son now wouldn't it?

Today is her Birthday, She's still not stinkin old enough to give a crap about how old she is. So her Birthday should be fun. Just wait til she has to turn 39 over and over again.


A little FYI on April, She's a Vegan at heart, Like me...loves my son to pieces, Hates animal cruelty, Loves Howard Stern, Likes Cooking, Has a Fur baby Yorkie named Annie or Gurd as she so lovingly calls her. Lives too far away for me to have a good relationship with her, :( She could be a convincing look-a-like for a younger Molly Shannon from SNL. She hates that when I say that I know it. But the similarities are there.


I almost could see her doing her own rendition of Mary Katherine Gallagher sometimes with some of her expressions. Ok, Enough with that.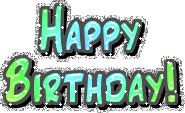 XOXO
...Posted with love always Mom
all in good spirits. Happy Birthday Sweetie!